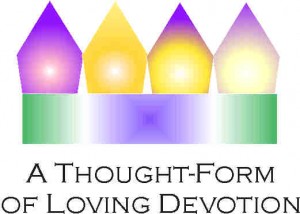 We have explained in other articles on My Spirit Care about the importance of cleansing the aura to remove bad energy and maintain balance of the spiritual, emotional and physical bodies. Another equally important aspect of keeping oneself psychically clean is to think good thoughts and negate bad ones so they do not commit damage in our own lives or the lives of other beings.
That old saying "Thoughts are things" isn't just an adage! It's true that thoughts are things. More precisely, they are thought-forms, very real energetic constructs that you create by thinking. They are part of your auric body, although they are often mobilized to go great distances across the material barriers that limit physical form.
For example, when you have an intense moment of thinking loving thoughts about your child who is away at summer camp, a corresponding thought form will be created that contains the energy of your feelings. Made of light, colored according to the frequency and energized by your focus on your child, this lovely formation of light will rush out from you through the miles and attach to a corresponding, resonant field in your child's aura. He/she will feel Mother's love from afar, because it has come in the form of a flying hug. The love bounces back, as well, reinforcing the loving energies within you, increasing your own capacity to be a loving person.
The more love you give, the more love you will get.
This is the reason the wise have spoken about Love being the greatest protector. We can offer shields of protection to others with our love because of thought- forms.
Negative thoughts, on the other hand, are not a gift we like to receive and should never be given to another. These cause psychic injuries—and more—and like a boomerang, will come back to injure the sender. I'm sure you've heard the old stories of how tomb raiders of the Pyramids had bad things happen to them because of ancient curses. Scientific-minded people would have you believe this was due to suggestion, but in fact the Egyptians whose duty was to protect the Pyramids were masters at the creation of negative thought-forms. Those explorers who were susceptible by reason of their own auric weaknesses would experience "bad luck" from negative thought-forms that attached to their auras. Not nice at all, very nasty.
 Schematic of a Thought-Form
It would not be possible to provide an encyclopedia of what thought-forms look like because they are a lot like snowflakes: under general conditions, no two are exactly alike. Sometimes they are complex designs and sometimes they are lines, arrows, zigzags, clouds, balls, and boxes. They can look like creatures, spirals, thunderbolts, and architecture. Anyone who has looked through a kaleidoscope has had a little demonstration in how some thought forms can appear to the clairvoyant eye and how these change rapidly into something else.
They are made of living light, just like you, and there is no example in the third dimensional world that is adequate to compare their appearance.
Thought-form shapes and colors reflect the quality of the thought that made them. The pictures with this article are two dimensional drawings (made by a 3rd dimensional person!) of hyper–dimensional thought forms, so while the rendition is not perfect, it will give you an idea of what they look like to the relatively few clairvoyants who can see them. The greater the intellect or the stronger the focus, the more defined their construct. The more lovely the thought, the more beautiful its form.
Public Enemy Number One: Negative Thought-Forms!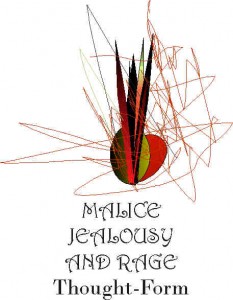 It takes an especially trained Third Eye to know what thought forms mean or represent. Positive thought forms, which arise with positive thinking, are very desirable. We all want those around us! But negative thought forms are more common to the fearful human condition and silently wreck havoc in our lives. They are created by obsessive, reckless or negative thinking and they breed like an orgy of cockroaches!! Bad thought-forms create more compulsively negative thoughts and behaviors that continue to multiply in receiving and resonant  energy fields.
What some in science call a "meme" and what sociologists call "mob mentality" a clairvoyant calls a thought-form. Truly, we are defining a mind virus. And yes, it is imminently real AND viral.
On a broad social level, repeated similar thoughts (sparked by mass belief) make thought forms larger and more intrusive, influencing things like public policy. Ever-increasing and fanatic religious fervor is an example of how thought- forms infect populations, or even how incompetent people gain positions of power, when no person "in their right mind" would support them. Powerful thought-forms created through ad campaigns and media hype push their way past reason and override conscious decision-making. The injury to society from negative thought-forms is beyond reckoning: the effects are seen, but not the energy that causes it.
The really good news is that we can cure the damage done by negative thoughts. In our next  My Spirit Care post, we will explain how to "Clean Negative Thought Forms from Your Aura and Feel Good Again." Don't miss it!
As always, when you need our psychic advice to eliminate negative and bad energy from your life, or when you need a clairvoyant psychic reading or clairvoyant energy  assessment to understand what energies are around you and what to do about it, we are here to help you.