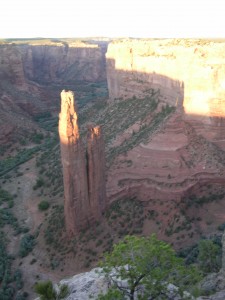 Life is a roller coaster ride of emotions. You've felt so many emotions in the course of your life! Looking back on your life, you may wonder how you made it through everything. But you did.
When we are having an emotional experience we can easily lose perspective of the situation, as well as lose sight of the bigger picture of life itself. Very strong feelings distort how we perceive and what we are able to understand in the moment. This can seriously muddle our thinking and make things worse… putting us too deep in the forest to see the trees, as they say.
When we get muddled it's time to step away from what we feel, through the process of meditation…or just getting very still…and let go of the feeling so we can find our core self. The core self is the eternal spiritual being that we are, under the emotions, behind the circumstance, and before the ego personality of this life was formed.
Family Tree of Emotions
People aren't the only created beings with relatives. Emotions and thoughts have birthdays and relations of their own. By tracing the roots of your emotions and pairing them up with the thoughts that gave birth to them, you can get to the core cause of many of your most troubling emotions.
Relatives on your emotional family tree are much worse than slothful cousins or meddling in-laws: they can crash your best parties and whip you into a weeping puddle without a moment's notice.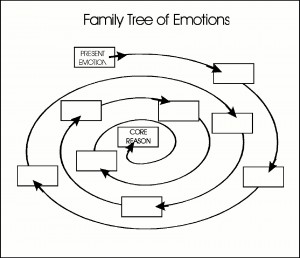 The "Family Tree of Emotions" exercise is designed to help you when you are struggling to figure out why you feel the way you do. The diagram shown here has blank boxes that spiral inward. You can sketch your own on a separate piece of paper.
Suppose you are struggling with a feeling of sadness. Write "sad" in the first box at the beginning of the spiral.
Then, ask why do you think you are sad? If your answer is something like, "I'm depressed because John won't call me, then write that down in the next box.  If your deeper belief is "…it means he doesn't care", then write that perception in the next blank box.
"Nobody really cares about me"…"My brother said I was a pain in the butt" …"I remember when he…" and so on, progressively working your way to the core beliefs that are hidden behind the screen of the emotion you are dealing with.
How Emotions Happen
Emotion begins with a perception, followed by a thought that incites a feeling inside you. For example, as a kid you may have had the perception that someone was making fun of you as you saw them smile when you tripped on a shoestring. An incorrect perception (the belief you were being mocked) was followed by an incorrect thought, "she's making fun of me!" which could have given rise to an emotion of feeling embarrassed or put down. Later in life, then, the root experience could lead you to become overly self-conscious and sensitive. —All this for nothing, since the reality at the time of the occurrence  was that the person was smiling because of your childhood charm. (You were terribly cute all the time!)
Perceptions vs. Reality
The trouble with emotions is that they can "talk" us into believing our own story. We believe that what we perceive is a fact and thus, we can believe that feelings of anger, sadness, fear, etc. are not only justified, we can believe them to be unavoidable.
We often let emotions control our outlook on life, our thoughts, our behavior and our choices. Thus, they  have an enormous effect on the way we live our lives. But there is something we can do about that, which is why at My Spirit Care we provide extended spiritual coaching to enable a balance and spiritual power over the "emotional dictator" that so often inhibits life progress.
Next Post: Part Two, Becoming the Master of Your Emotions