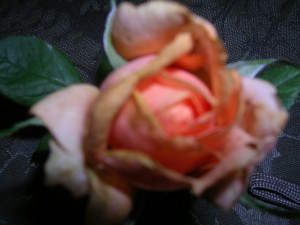 Have you noticed that in most talk about spiritual enlightenment there isn't a whole lot of discussion about love?
There are discussions about spiritual techniques, about the (mysterious) love of God, about being detached and objective, even about aliens from space coming to save us and the planet, from ourselves.
There's a lot of fancy language and a myriad of beliefs about what's spiritual. Compared to all the claims, all the "do's" and "don'ts," you will not hear that much about the word "love" or what that means, exactly. In fact, people get a little uncomfortable with that word unless it is used in the most superficial way; just as they are sometimes secretly uncomfortable or suspicious when another person behaves in a loving way towards them.
And then there's this: people often have ideas about who is okay to love, and who isn't. There is so much bias, fear, misunderstanding, and woundedness charged around the interpretation of love that the last thing many people ever think about is loving themselves.
Although most of us have heard,  "Love thy neighbor as thyself" and most try to live up to the "love thy neighbor" part, we don't give "love thyself" a second thought. It gets lost in what seems to be the first imperative, when loving one's  neighbor isn't the first imperative at all! Let's translate the sentence so you can understand what it says: "Love yourself and love your neighbor the same." Ah, yes, that's it.
I tell you that I have given at least 15,000 clairvoyant/psychic readings in my long career (I stopped counting after that) and the biggest problem that people grapple with is a love of themselves. "So what?" you ask, "Why does that matter?"
It matters because self-love is the bedrock foundation of a meaningful and happy life and there can be no real love in our lives without it. Period. It matters because nothing in the universe can save us from ourselves until and unless we understand the real meaning of love, and that starts with self-love first.
This is not about conceit, which is being in love with yourself. The difference between loving yourself and being in love with yourself is that the first is a powering up of the spiritual life force; and the second, is to be centered in egotistical narcissism.
Now while it may be true that "giving is better than receiving," it is crucial we fill up our emotional warehouse with self-love, first. Otherwise, we'll be giving from deep-down emptiness and that can make one more unhappy, tired, and depressed. When it gets right down to it, how can you give something away that you don't even have?
Relationships forged between two people with no self-love have a bleak outlook. Often, for all the effort we put into failed relationships that are not really based on love, we end up thinking there is something wrong with us, that somehow we have failed. Truth is, most often there was no real love there to start with; truth is, one or both partners did not have self-love. (It may have felt like love…but that's a subject for another post.)
I'm amazed at what treatment a man or woman will put up with when they would not sanction someone to treat their best friend in the same way. Often  they wouldn't want someone they love to suffer with the situation they willingly subject themselves to, only because they never give a second thought to self love.
There's some pop psychology out there about "women who love too much." Now while we need awareness about the tendency people have for destructive self-sacrifice, there really isn't such a thing as "loving too much." For in truth, love is an infinite force: it's what life is made from. No, the problem isn't "loving too much," the problem is that we don't know what love really is!!!
The understanding of what love is starts inside, with a feeling connection to your own true heart. And while love itself is an infinite force that is difficult to describe, we can describe the indicators of its presence in our lives.
As far as the most important obligation of loving yourself, the following are indicators that you do:
You don't need constant reinforcement from someone else that you are loved.
You require respect from others the same as you give.
You forgive yourself for mistakes and practice self-understanding.
You allow and honor your own personal beliefs and viewpoints. Your inner voice is not a teacher, parent, or preacher, telling you how or what to be.
You trust yourself.
You take enough time for your own needs and have a healthy, creative inner life.
You are thoughtful and wise about your choices and the impact they will have on your own personal well-being.
You are comfortable being alone.
You feel inner support, or self-confidence, because you stand with yourself in life.
You are kind to yourself in thought and deed.
If you didn't answer many affirmatives on the list, don't despair. Self love is not an easy thing to learn because most people weren't taught about that. In fact, their parents didn't know about it, either. That's because we live in a world where truth is not premium, but the imitation of it is everywhere.
So, the next time you find yourself engaging in self-criticism or other unloving thoughts and emotions, on one of those days you're being hard on yourself, just look in the mirror and say right out loud,
"Be Patient! I'm not finished with me yet!"
And then from My Spirit Careto you…give yourself a great big hug!