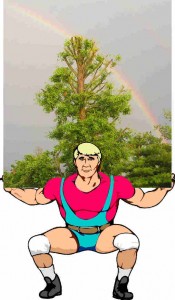 Hello, wonderful readers! Today is another blessed day to be alive.  Oh, I know it isn't always great…life is often hard and currently, serious challenges mount in our world. Many people are out of work, many struggle with illness, loneliness, financial strain, spiritual emptiness: life throws tremendous problems our way.
When things are going great in life, most people don't give much thought to their spiritual welfare, beyond superficial worship or brief prayers. It's when the junk hits the fan that we start looking around for help from a Higher Power.
If―as many believe—God truly were made in the image of man, that's when we'd really be into some trouble. For one thing, what kind of a relationship can we have if we only give someone our time and interest when we're in need or in trouble?
Each of our readers is at a different place in their lives, with different beliefs, circumstances, personalities, and your own unique way of coping with circumstances in your life.  Some of you are ready for a greater spiritual connection: a sense of being connected to the Divine. Many of our readers are going through difficulties that require a spiritual connection to get through hard times. The meditation here also provides psychic protection and spiritual cleansing.
There are some of you who know you should take the time to spiritually connect, but don't, or don't feel you have the time. I realize that taking time to regularly do what I call "Light Work" requires effort, no doubt, but it's a wonderful practice that will make a huge difference in your life. What follows is just one meditative practice among many. Find one that works best for you.
Unplug the phone, put up the cat, and get comfortably settled in a quiet place. Let go of your concerns, for you are going to let your awareness of the Divine come in.  Close your eyes, leaving a small slit to barely let the light through.Watch your thoughts and do not judge them. Relax. Focus on your breath. As you do this, envision yourself sitting in the center of a large triangle, or pyramid, floating, with its apex at the crown of your head. Envision this pyramid being flooded with brilliant golden-white Light, coming from Divine Source, filling this vessel, every cell and atom of your body. Bathe in this Light. Affirm your love. Ask for Divine Presence to surround, fill and guide you. Intend it. Trust. Listen. Be. When it is time to reenter the conscious realm, give thanks for your life and for the help you are given. Now know…go forward and know…Divine energy has responded and you are not alone.
Sometimes, you just have to believe. You have to reach out and scoop up stardust in your hands and hold it close: you don't have to see it for it to be real. Most of what's real cannot be seen: like air, Spirit is an invisible, ever-present reality. It's the Force of Life that put you here. It is love.
Even when it seems that there is no love for you in this world because things are going rough, know that this, too, shall pass. Love is the sun behind the clouds and it never quits shining. I send love and support to all of you this day. And of course, I'm right by the phone to provide a clairvoyant psychic reading or spiritual coaching. All you need to do is make your purchase and I'll arrange an appointment time convenient for you! Namaste.