Important: Please read "The Power of Thought Forms: What Are You Doing to Your Life?" before you read the following article.
People are often hammered by negative thoughts. While they wonder why, you have learned from our previous MySpiritCare article about thought-forms and how to cleanse your aura. Negative and troubling thoughts are more than brain synapses! They are energies you either create or pick up because you have similar frequencies in your own aura!
When the mind is allowed to idly dwell or when we obsess over the same thing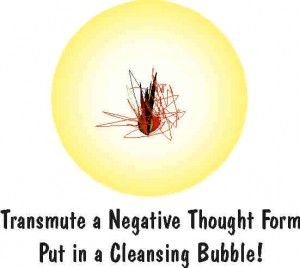 again and again, thought forms will be created that come back to haunt us, making it very difficult to let go of particular thoughts or behavior when we wish to stop thinking about something or acting in a certain way.
For example, a woman who thinks constantly, incessantly about an unrequited love but finally comes to the conclusion that it's best to move on because the person is not a good romantic interest, may find that she can't stop thinking about the person even though she wants to. "I can't get him off my mind! So it must mean I'm not supposed to stop thinking about him! I must have a future with this person!" She assumes because she can't stop thinking about him even though she wants to, that there is some fated purpose in her incessant thoughts… and that she is "not meant" to let go.
Far from her thoughts being some sign of cosmic purpose, she is a victim of a thought form that she herself made, as it keeps engaging her mind in an obsessive way. Terrible as it is, the thought forms made from improper thinking grow even stronger with repeated focus: their influence widens and deepens until circumstance (often unfortunate) sublimates it to other arising thought forms of similar negative frequency.  Sublimated negative thought forms remain damaging. They do not just "go away," but influence the deeper levels of the human psyche in more complex and entangled ways.
People trap themselves into negative cycles with their unwitting use of living energy: unproductive thinking, self-centered ego fantasies and negative thoughts have hidden and serious consequences. They lead to pathological and destructive behaviors, suffering, sadness, rage, and grief.  Negative thought forms ruin lives. From a karmic and cosmic perspective, we must also know that what we send out to others, we will receive back. Negative thinking is a no-win scenario of the worst kind.
You Can Change It!
Thankfully, most people are victims of bad thought-forms only due to their complete ignorance. Knowledge provides the power to change everything.
The moment an unpleasant, obsessive, unproductive, fearful, depressed, hopeless, ugly, greedy, angry, hateful, condemnatory, jealous, wicked, injurious thought or mental out-picturing arises in your mind, immediately visualize this thought locked in a bubble of golden-white light and squeeze it until it evaporates in your mind. Say, "I negate and neutralize this idea and give it to Divine Light right NOW!" Then say, "Light, Love, Light!"
Another technique is to immediately respond, "Good-bye, LIE!" and mentally whoosh your dark thought into the light of the sun.
Done as often as needed, these actions neutralize negative thought forms and render them harmless. It won't take long, if you practice this, before your thoughts become rarified and positive on a regular basis. It is an outstanding remedy for those caught up in negative thinking and helps to heal states of feeling depressed.
This will change your life. When enough people become aware, it will change the world.
If you need further help with energy issues in your  life, I'm here to help! I will do an authentic, clairvoyant energy assessment and give you individual guidance about clearing bad energy out of your life. Working together, we can help you fill your life with the good stuff!
May beautiful thoughts belong to you, and beauty abound in your life!